Hard/Soft Combination

Groundbreaking Material Combinations
Yet another innovative development for engine assemblies that are in contact with automotive fluids and that need to be resistant to very high temperatures is a new hard/soft material combination of Durethan® PA and Therban® HNBR. This enables a thermoplastic component with a directly integrated elastomer sealing function to be produced in a single operation using multi-component molding. LANXESS has developed materials with excellent processing characteristics for injection molding that satisfy the requirements profile and meet the needs of the production process. These materials can withstand continuous use at 150 °C and the action of automotive fluids, such as oil, while also meeting fundamental requirements for adhesion and cost-effectiveness.

Product Requirements Profile
Ideal for long-term use at high temperatures (150 °C)
Extremely resistant to chemicals (oils …)
High levels of mechanical stability
Low compression set
Adequate mutual adhesion
Easy and fast to process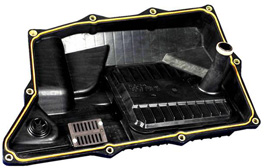 Oil pan
Efficient Production
Jointly processing thermoplastics and crosslinking elastomers in an integrated multi-component process increases the degree of automation and, consequently, the cost-effectiveness of the process. Producing such a multi-component part previously involved numerous operations. Manual insertion is very costly and involves a high risk of damage and waste. The possibility of implementing this process in cost-effective cycle times using LANXESS materials and multi-component injection molding thus offers immense potential for cost savings and increases design freedom.



Shorter Cycle Times
Cycle time is the decisive factor in industry. High hourly rates for machines and costly injection molds mean that fast cycle times are essential. When producing multi-component parts, the cycle time depends on the vulcanization times of the elastomer component. The rubber components developed specifically by LANXESS can be demolded at lower crosslinking levels and then vulcanized in a cost-effective annealing process.

The graph shows the crosslinking kinetics of a conventional HNBR mix compared to the LANXESS HNBR mix.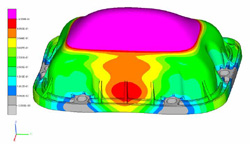 Deformation behavior at an internal pressure of 20 bar.
Outstanding Material Behavior
Component testing produced excellent results. The thermoplastic component exhibited excellent material behavior in terms of elongation when subjected to internal pressure, as did the compression set of the elastomer component after the alternating temperature test. The picture shows a schematic reproduction of the deformation behavior of the fluid container at an internal pressure of 20 bar. LANXESS can offer its customers both components (Durethan PA and Therban HNBR), rheological design and simulation plus application engineering know-how, all from a single source. This makes LANXESS an attractive partner for this new, innovative, and growing industry segment.


For questions about this topic, please send an email to _Rob Cunningham.