"Nylon composite sheet" in a bonded connection with Durethan

Tepex® continuous fiber-reinforced thermoplastic composites and their processing suitable for large-scale production.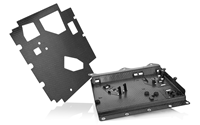 Example of a hybrid structure with nylon composite sheet

Tepex stands for a material group of fully impregnated and consolidated, sheet-like composite semi-finished products made of high-strength continuous fibers (or long fibers in the case of Tepex flowcore) and a thermoplastic matrix. These so-called organic sheets can be processed into complex components in short cycle times by heating and subsequent forming. Continuous fibers are mainly glass and/or carbon fibers in the form of woven fabrics or other textiles. Matrix materials are thermoplastics such as polypropylene, polyamide 6, polyamide 66 and polyamide 12, polycarbonate, thermoplastic polyurethane and polylactide. The strengths of Tepex can be summarized as follows:

high stiffness
high strength
high lightweight potential due to low density
short cycle times for component production
thermoplastic matrix enables overmolding and welding
high freedom of molding
solvent-free
recyclable as a material
high energy absorption behavior
low coefficient of thermal expansion
good dimensional stability, chemical resistance and corrosion resistance


The combination of Tepex with short- or long-fiber-reinforced plastics with the same or a compatible matrix system and their processing method injection molding and compression molding also offers the excellent possibility of combining material and structural lightweight construction, e.g. by molding of:


stiffening and stabilizing ribs
force transmission elements
functional elements
dge sealing of the component


With suitable material selection and process control, a component is obtained with a material-to-material bond between the two components.

A basic distinction is made between a two-stage and a single-stage hybrid process. Both processes combine the following advantages:


greater freedom of shaping
Possibility of integrating additional functions and thus reducing subsequent steps
combination of material and structural lightweight design
short cycle times
reproducible and fully automatable processes
well established production technology


In hybrid molding (two-stage), on the other hand, forming of the organic sheet and injection take place together in the injection mold. The clamping unit of the injection molding machine serves as the forming press. The mold, which thus has to perform various tasks, must be specially designed for this process. In order to produce molded parts without reworking, the organic sheet semi-finished products are provided as near-net-shape blanks. These blanks represent a drape-compatible unwinding of the part to be produced, which can be calculated by means of the drape analysis.

Comprehensive information on all forming methods currently used for processing Tepex can be found in our brochure "Information for Processors" and on our homepage tepex.com.

Of course, we always remain for your disposal for a personal discussion about your individual project.



Additional information
Tepex - Innovative composites
website
company website
press releases
media
company website
Tepex - Advanced thermoplastic composites
brochure
TechCenter
Tepex - Information for processors
brochure
TechCenter
nylon composite
search
TechCenter